Website and newsletter advertising
Website banners
Anchored by chemweek.com, our digital advertising opportunities touch our online and mobile audience in innovative ways on multiple platforms 24/7.
Build your brand, drive traffic and collect high-quality leads with high-impact advertising on chemweek.com.
Your marketing message will be seen by more than 50,000 highly engaged visitors each month, generating 180,000 impressions, ensuring your campaign will be a huge success.
Website banner ad specs: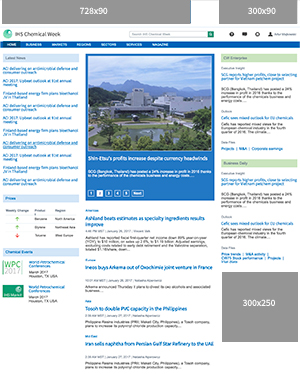 File Formats: HTML5, GIF or JPG only. No Flash.
File size: Hosted creatives can be up to 1MB.
For rich media creatives, you may want to follow industry rich media creative guidelines, such as those published by the Interactive Advertising Bureau (review the IAB guidelines). Please note that larger creative files will increase the page load time for your site.
Third party tags accepted
Sizes:
Leaderboard (728 x 90)
Top banner 300x90
MPU (300x 250)



Newsletters
Chemical Week's newsletters offers targeted information platforms for advertisers.
Business Daily

Distributed daily to more than 5,000 C-level executives.
Topics: Latest news, expert analysis, and a great range of actionable data allow subscribers to stay on top of industry trends and make better business decisions.
Book a banner ad in the Business Daily
---
Weekly Chemical Insider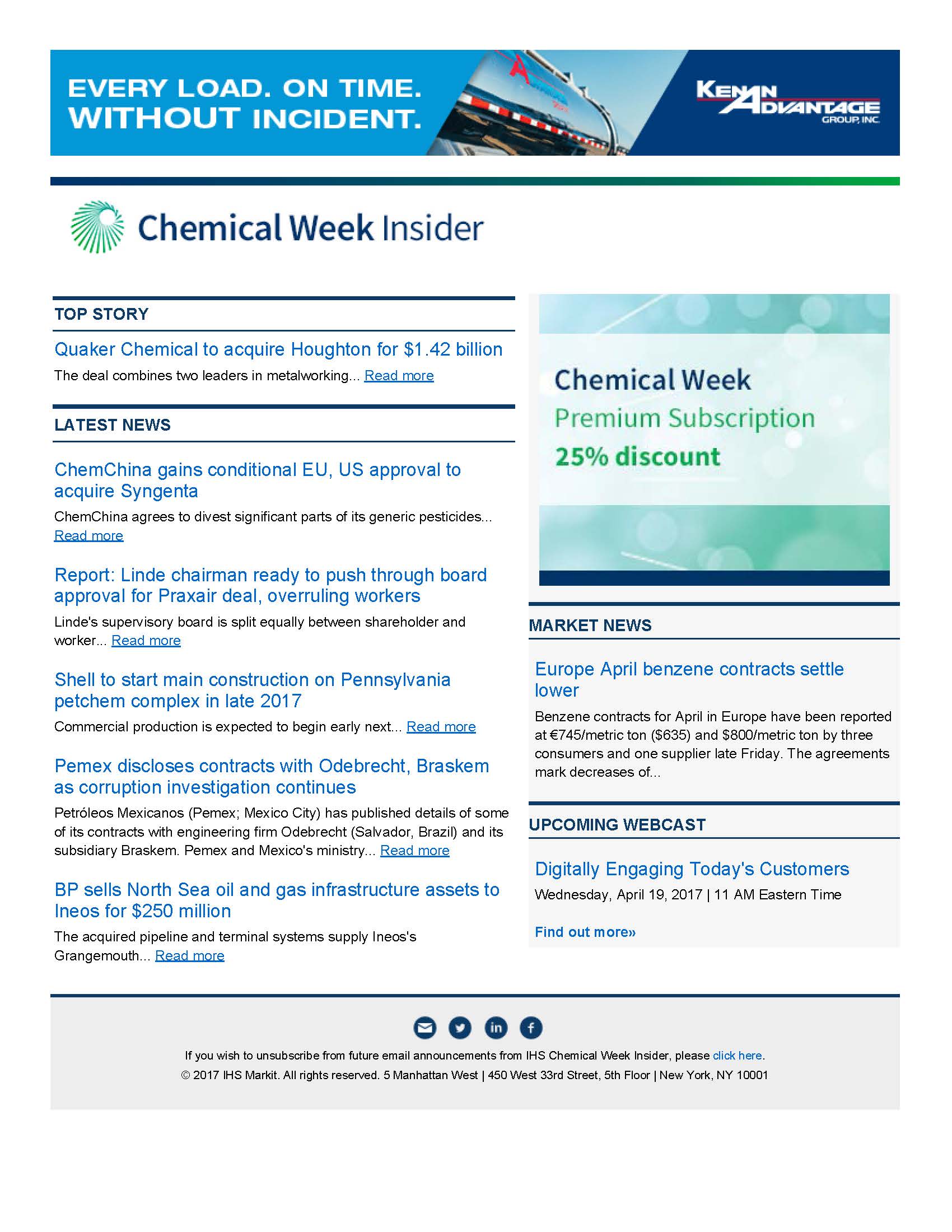 Distributed weekly to over 60,000 contacts.
Audience: C-level executives, e.g. CEO, CFO, CIO, Senior Manager/ Director/General Management, Sales/Marketing/Business Development, Technical/Engineering, Purchasing/Procurement, Consultant, financial advisor (chemical industry), Analyst/Library/research center/information specialist
Topics: Latest new, industry events and insights from current issue of Chemical Week
Book a banner ad in the weekly insider
---
Topical Newsletters
All Topical e-Newsletters (delivered to more 25,000 contacts) feature top stories and market / topic-specific analysis, followed by events listings.
Delivery schedule: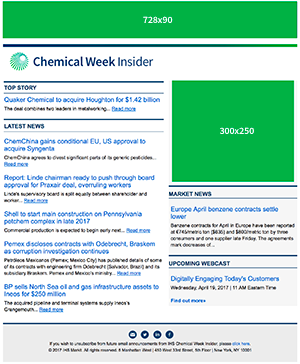 E-letter banner ad specs:
File Formats: GIF or JPG
Animation: If the ad is animated, it should continuously loop and all important information should be included on the first frame.
File Size: The file size must be 80K or less.
Sizes:

Leaderboard (728x90)
MPU (300x250)



Align your marketing campaigns with related content for optimal results:

Download Mediakit

2017 Editorial calendar

To book a banner, call Joe Mennella on +1.212.884.9534 or email joseph.mennella@ihsmarkit.com.