Buyers' Guide
One time buy. Twelve months of sales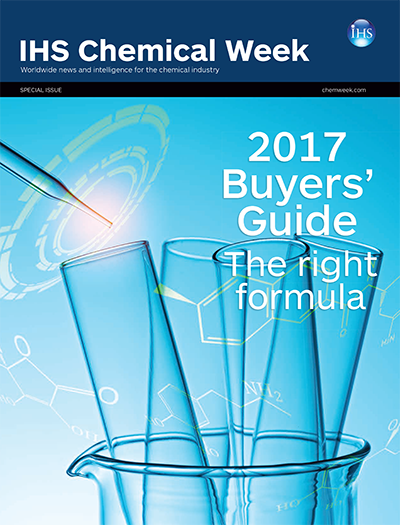 Put your products directly in front of a global audience of buyers, at the moment they are making purchasing decisions.

Only Chemical Week's Buyers' Guide has the distribution to reach buyers and decision-makers located throughout the world. Chemical industry buyers know they can rely on IHS Chemical Week to produce the most accurate and relevant sourcing directory for their industry.

Our Buyers' Guide includes information about suppliers, manufacturers and producers of all products for all major segments of the chemical industry. Available in print and online.
Online features include:
Direct email response
Immediate results when updating and registering new listings
Premium featured advertising
Hit-list logo options

Trackable leads
Our visitors can get quotes and product information in real-time from multiple suppliers directly from the online directory.
To feature your company in IHS Chemicals Week's Buyer's Guide, please contact Joe Mennella at joseph.mennella@ihsmarkit.com or +1 212.884.9534.
Purchase the Buyers' Guide
To purchase a print copy of the Buyers' Guide for $75.00 (plus shipping + handling), please call us at:
+1-866-501-7540 (Toll free in the USA)
+1-847-291-5218 (International)